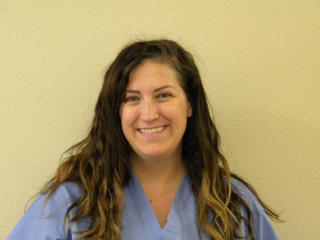 New Physician Joins W.J. Mangold Memorial Hospital Emergency Department
The Board and Administration of the Lockney General Hospital District are pleased to announce the addition of another new physician to the Lockney medical community. Dr. Ashley "Jade" Ireland began her practice in the Emergency Department at W.J. Mangold Memorial Hospital in Lockney on April 27th.
Dr. Ireland grew up in Hale Center, Texas and attended medical school at Texas A&M Health Sciences Center College of Medicine in Temple Texas. She then completed a residency in Family Medicine at Texas Tech University Family and Community Medicine in Lubbock, Texas.
For the past 3 years she has been in private practice in Colorado City, Texas. She is Board certified by the American Board of Family Medicine and has certifications in Advanced Cardiac Life Support, Advanced Trauma Life Support and Pedatric Advanced Life Support. She is married with two children and will reside in Lockney in the near future.
Dr. Ireland will be serving in the Emergency Department and admitting patients, sharing coverage responsibilities with Dr. JoBeth Augustyniak, who started at the hospital in September 2020. Dr. Ireland's recruitment is the completion of a plan for the hospital to discontinue services of a third party company providing doctors for the E.R. and recruiting its own physicians to the community to provide these services.
The hospital CEO Vince DiFranco said, "We conducted a nationwide search for two physicians that would be a great fit for our emergency department and community. We are fortunate to have found both Dr. Augustyniak and Dr. Ireland as they are familiar with smaller communities and are working well together to serve our emergency patients". "Our goal is for the community residents to get to know Dr. Augustyniak and Dr. Ireland and feel confident that, at any time, they will receive highly qualified, compassionate and timely care in our emergency department", stated DiFranco.